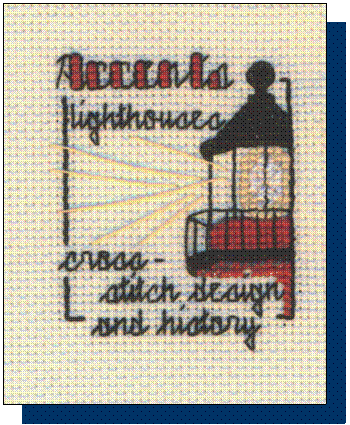 Home Profile Catalog Samples~New England Sample~Mid-Atlantic Samples~The Southern States Samples~The Great Lakes Samples~The Western States South Coastal Ireland Specials and New Designs Links Prices and Order Form Accents In the News and More Specials Feedback? Contact Accents Lighthouses

Accents Lighthouse Cross-stitch Design and History
...a company that appreciates the art of fine needlework and the interesting world of lighthouses.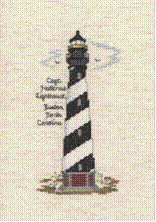 What's so interesting about lighthouses?
After all, they're just buildings.

But they're buildings that have stood for many years and the test of time as the world went on, giving light, guidance and assurance to mariners and shipping traffic along the coasts of the world. They were standing when the American Colonies were founded. They were standing during ancient rule. What started out as fires along the shore became the welcoming, warning beacons standing today .
The author, Robert Louis Stevenson, came from a long line of architects who specialized in lighthouses. He was destined to follow the pursuits of his family when he realized he could write better than he could design lighthouses. He said,

"It is perhaps a more fortunate destiny to have a taste for collecting shells than to be born a millionaire."
Accents Lighthouses is dedicated to keeping alive the knowledge of North American lighthouses, through the fine artwork of counted cross-stitch, and historical research. Each of the lighthouses has been researched for historical and general information, based largely on the writings of Edward Rowe Snow, known for his maritime publications. Permission to use his narratives was given by his daughter, Dorothy Snow Bicknell.