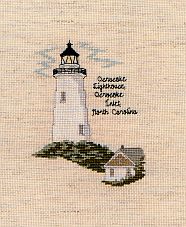 Ocracoke Lighthouse, Ocracoke Inlet, North Carolina

Ocracoke was home base for Blackbeard the Pirate, Edward Teach. With a bounty on his head, he literally lost it when British troops caught up with him in 1718. During the Civil War, Confederate and Northern troops controlled the lighthouse. Confederate troops removed the lens from the lamp in the early years of the war, while Union troops replaced it. The original fourth-order lamp was destroyed but was replaced after the war. That lens remains today.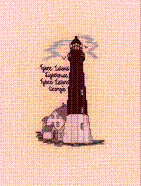 Tybee Island Lighthouse,
Tybee Island, Georgia

In 1857, the Lighthouse Board fitted this lighthouse with a second-order Fresnel lens. Because of damage during the Civil War, the lighthouse needed repairing which resulted in the upper portion being torn away and rebuilding it. Its height was raised to 145 feet, and was fitted with a first-order lens. The keeper relit the lamp on October 1, 1867. Though shaken by earthquakes and gale-force winds, the tower still stands. The tower is a monument to the skill of the colonial workers and their 19th century successors.
"The Lord is my light and my salvation, whom shall I fear?" Psalm 27:1